Description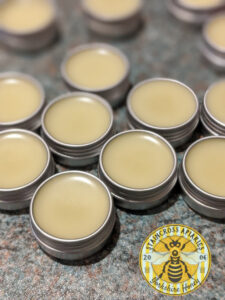 Our lip balms are made with only three ingredients.
Beeswax naturally protects the lips from loss of moisture yet allows your skin to breathe, unlike many conventional lip-balms which use petroleum jelly. Beeswax can also contribute to the healing of chapped lips due to it's anti-bacterial and anti-microbial properties.
Sweet Almond oil has been traditionally used in many ways on the skin because of its anti-inflammatory, immunity-boosting and emollient properties.
Whilst our lip balms contain only a small amount, Vitamin E is known for its antioxidant properties. Antioxidants help to protect your body from damaging compounds called free radicals.
No other additives or chemicals. A natural product.
Available in a tin or a tube.