Ideal gift for those interested in honeybees or who fancy experiencing something a little different! A one-hour beekeeping experience led by a qualified teacher with enhanced DBS check and over 12 years of beekeeping experience.
What will we do?: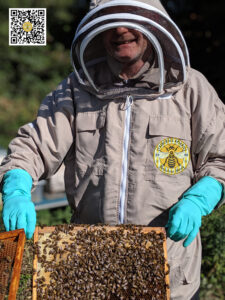 We will start our experience with a little background information about honey bees. Discuss the workers, queen and drones. I'll introduce you to some beekeeping equipment and explain what they are used for. Then we will don our space suits…I mean bee suits and venture into the apiary. We will open up a hive or two and explore the world inside. Together we will spot eggs, larvae and pupa, and maybe see a baby bee emerging from its cell for the first time. We will talk about how bees make honey and I'll explain the dances that the bees perform in order to communicate to each other. Refreshments available.
Where we will be:
We live on our family small holding overlooking the hills towards Penistone. From this little piece of paradise, we will open up the hives and investigate the work that goes into making each jar of honey that you buy. You may also bump into our friendly flock of chickens as they wander free-range over our 30 acre homestead.
What we will provide:
We will kit you out with a full-length bee suit.
Gloves.
Small group size
Refreshments.
What you need to bring:
Long sleeved top (not wool).
Long trousers.
Wellington boots are ideal, but any ankle high boot would suffice.
Notebook and pen?
Camera?
Hair band/bobble if you have long hair.
Please arrive 10 minutes early in order to complete the registration form.
About your experience leader: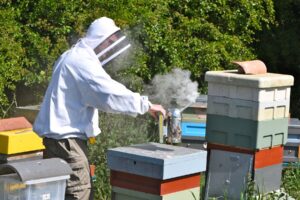 I have been keeping honey bees since 2006 and qualified as a teacher in 2013. I currently manage around 40 hives, but at one time had around 50. There is nothing I like more than combining my passion for bees and my second love, education. Come and join me in my home apiary and explore the world of the honey bee. I will combine practical and theoretical knowledge of starting, maintaining and falling in love with these resourceful little insects.
Sessions with fewer than two participants may be rearranged. Children (5-16yrs) are welcomed when accompanied by a paying adult. The session assumes you have no experience or prior knowledge of bees and beekeeping. Please also see the terms and conditions of the session.