Description
30ml Propolis Tincture made with Premium Pure Food Grade Ethanol Alcohol.
Perfect for internal and external use. Available in a spray applicator or an eye dropper.
Propolis is plant resin. The resins that plants produce are highly antimicrobial, meaning that they are antifungal, antibacterial and antiviral: they contain a complex mix of flavonoids and monoterpenes that have a lot of health benefits. The bees find these plants that are producing these resins and will collect the resins from plants by scraping them off and pack it onto their hind legs. We often see worker bees returning to the hive with their hind legs heavy with resin ready to coat the nest.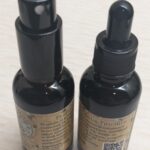 The tincture can be added to your drink or onto a salad or snack. Put 4-5 drops/sprays in half a glass of warm liquid (tea or water or fruit juice) once or twice a day. Alternatively, you can spray or drop directly into your mouth. The spray applicator is good for applying to the back of the throat.
External use: apply to the skin where necessary using the spray applicator or a cotton bud.
Propolis is extracted from the hives using propolis screens and then added to 95% organic Ethanol alcohol made from pure Organic Wheat in a process that takes about 30days. It's a cold extraction process.
Read more about the incredible properties of propolis here.
To retain the integrity of this product please store below 30°C in a dry place. Store out of reach of young children. Food supplements should not be used as a substitute for a varied diet and healthy lifestyle.
Propolis may cause allergic reactions. If irritation or swelling of the mouth or throat occurs, discontinue use and consult a healthcare practitioner. Not suitable for children under 2 years of age. Pregnant or lactating women: Consult your healthcare practitioner before use.
Do not exceed recommended daily intake.